What to expect along the way
We want you to be fully informed about your Kumano Camino tour. The information below has all the details from the style of your accommodation and bathing etiquette to the gradients and distances we cover each day.
Accommodation
Throughout the tour we stay in a variety of accommodation starting with the familiarity of a western style hotel and then eating, sleeping and bathing in traditional Japanese style inn accommodation, some of which feature hot spring or onsen baths. On the Koyasan and Kumano Kodo tour we spend a night at a Buddhist temple and a converted school house in the mountains. Staying in traditional Japanese regional inns (minshuku or ryokan) is a real cultural highlight of our tours. Some of these family run inns along the route may be simple with shared toilets and bathrooms (separate areas for men and women) but offer great hospitality. We sleep on futon mattresses on tatami matting and occasionally eat at low tables sitting on the floor.
At traditional Japanese accommodation, shoes and hiking boots, poles and umbrellas are left at the reception or foyer area and slippers provided by the inn are worn indoors. The inn provides each guest with a cotton yukata (a simple kimono similar to a dressing gown) and obi (sash) which may be worn while at the inn. If the weather is cool, a warm jacket is also provided.
At the end of a day of walking, your inn is a wonderful place to rest and enjoy the company of your fellow walkers over a drink. Have a long soak in the reinvigorating bath or onsen, change into your yukata and pad down to dinner in your slippers to enjoy a memorable meal together, recapping the day's highlights.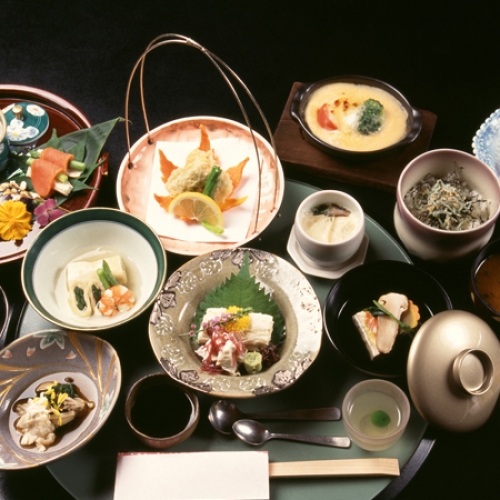 Food and Drink
One of the greatest pleasures of walking through rural Japan is the local cuisine which is served at the inns at which we stay.
At the end of each day's walk the perfect way to celebrate is with a cold Japanese beer, a warm sake or a steaming cup of Japanese tea. All of our inns provide beer and sake at reasonable prices, and a few will serve wine.
The evening meal is a feast for the senses, as visually stunning as it is delicious. These "Kaiseki" style meals feature a wonderful array of meticulously prepared small dishes. The owners of the inns take enormous pride in serving traditional cuisine, highlighting regional delicacies. Ingredients are sourced locally and include "ayu" or sweet fish caught in nearby rivers and exotic vegetables sourced from the surrounding mountains. The meal is substantial and healthy with an assortment of meats, seafood and vegetables prepared and cooked in a variety of ways; pickled, steamed, marinated, grilled or even cooked over individual pots before you. Soup, rice, sweets and a little fruit usually accompany the evening meal. In large cities in Japan and elsewhere throughout the world, this Kaiseki style of dining commands high praise, with prices to match. We are privileged to enjoy this cultural experience in a simple authentic setting. At Koyasan, we will enjoy shojin ryori, the vegetarian cuisine prepared by the monks at your temple accommodation. Even for foreign guests accustomed to eating large meals with meat, the array of vegetarian dishes provided is a surprisingly delicious and filling meal.
A traditional Japanese breakfast is a great start for your day of walking. You will be served rice, miso soup, vegetables and some protein; possibly fish, egg or ham; all beautifully prepared. This style of breakfast might be a little out of your comfort zone, but it provides great energy for the day. If you can't start your day without a coffee or western tea, we suggest you pack some coffee or tea bags to get you going! Hot water is always available. If you want a more western style breakfast, you may bring your own oats or cereal. Milk is available in individual servings for tea or coffee but not in large quantities for cereal so you will need to bring your own small UHT packets of milk if you want to bring cereal.
You may want to bring along protein bars and nuts from home for snacks along the walk. There will be some opportunities on the first few days of the tour where you can buy fruit and other snacks for our walking days.
In Japan, food allergies and intolerances are not common and are not always understood. The inns cannot usually cater to special dietary requirements although some may be able to provide a vegetarian or pescatarian meal.
Baths/Onsens
Japan is famous for its hot mineral springs and many of our inns have onsen baths. Bathing in the local hot springs has long been a part of the Japanese culture. It is integral to the Shinto religion which has a focus on purification. Japanese pilgrims, such as those walking the Kumano Kodo pilgrimage trail, regularly stopped at hot springs to engage in rites of purification and cleansing, making onsen baths a core part of the pilgrim's experience. "Tsuyobu", at Yunomine onsen, which we visit on our Kumano Kodo tour, is the world's only UNESCO listed world heritage hot spring bath.
One of the great pleasures at the end of your walking day is to soak and relax in the inn's bath. The purpose is not just to clean the body, but to calm it too. The bathing ritual is relaxing, invigorating and of course helps ease those tired muscles. Some of the inns we stay at have larger onsen style baths where several people can bathe at once, others have smaller baths for individual use only.
Onsen bathing is also a great social experience, a tradition dating back over hundreds of years and one still keenly sought out by Japanese people today. The onsen we visit are all for nude bathing, but are segregated into male and female baths. Bathing in Japan is a respectful activity and it is considered rude to look unnecessarily at others. The bathing area is often so steamy that everything seems a little out of focus and can't be clearly seen in any case!
Some of our walkers find the idea of bathing naked with others a little confronting at first, but we encourage everyone to try it because it is such a wonderful aspect of traditional Japanese life. We tend to find that even our most apprehensive bathers are quickly converted, and some become addicted. At inns offering only large onsen type bathing, our group will often be the only guests and so bath times can be coordinated for those people who do not want to bathe with others. At other inns, using the shower early in the morning is the best time to have the room to oneself.
Bath Etiquette
In Japan it is customary to bathe at night and it is an unhurried activity. Although the inns where we stay are traditional, they understand westerners like to shower in the morning so, at most of them, you are able to use the showers (but perhaps not the bath) in the morning.
In your room, you will find a yukata (cotton kimono) and obi (the sash to tie around your waist). It is customary to put on the yukata after your bath and come along to dinner. You can of course change into the yukata in your room and pad down to the bathing area like that. You will also find a large and small towel placed in your room. The large towel is for drying off after the bath and the small towel is for you to take in to the bathing area to wash yourself with. The small towel is adequate to hold in front of yourself for privacy if you are feeling modest.
When you enter the bath area, take off your slippers before you step onto the tatami matting of the outer room. This is where you will leave your clothes/yukata and the large towel, placing them in one of the empty baskets or tubs on the shelves.
You don't take any clothes into the bathing area, just your small towel. You may take your own toiletries but body wash, shampoo, and usually conditioner is provided in pump bottles. Swimwear is a definite no. If the bath is a smaller bath for individual use, you may need to roll back or remove the cover before using. This cover should be replaced after you finish.
Around the edge of the room there will be small stools and handheld showers. This is where you sit yourself down, scrub up and make yourself very clean before joining others in the bath. The bath itself is never for cleaning; that is all done before you set foot in the pristine water. Make sure to rinse off with the shower so there are no soapsuds left on you. You never rinse your small towel in the bath but it is perfectly acceptable to put it on your head as sometimes that helps you stay cool in the very hot water.
If you find the water unbearably hot, start by sitting on the edge and slowly putting your feet in the water until you acclimatise. The water can be extremely hot so take it slowly and be careful. In a small individual bath, it is acceptable to add some cold water to the bath but please avoid making the water too tepid for the person following. People with certain medical conditions such as high blood pressure or a heart condition or who have cancer are advised not to enter a hot bath. Please ask your doctor if you are unsure if it is safe for you to enter a hot bath.
Once in the bath, sit back and enjoy the rejuvenating benefits of the mineral waters. For the Japanese this is the time to relax and perhaps talk quietly with your travelling companions. It is not acceptable to swim across the bath or splash around or to talk or laugh loudly with others. You can go in and out of the bath as many times as you wish. Sometimes if the water is really hot you will want to pop out of the bath to cool down a little. When you are finished, leave the water in the bath; do not remove the plug.
For further information on onsens, bath etiquette and the benefits and risks of onsen bathing see the website of the Japan Health and Research Institute. (Risks are covered in the website under the tab "Things to keep in mind").
The Trail
What's the walking like?
The walking varies along both the Kumano Kodo trail and the Nakasendo trail. In parts the trail is along secondary sealed roads and in parts along hiking trails. Relative to the Nakasendo trail, the Kumano Kodo pilgrimage trail is rougher under foot with more sections of earthen trail with exposed tree roots and rocks. Whilst both trails have some sections with steep ascents and descents, these sections are more frequent and extended on the Kumano Kodo trail compared to the Nakasendo trail.
Generally speaking, walking is more challenging and difficult underfoot on the Kumano Kodo trail than on the Nakasendo trail. On both trails, we offer an option to the scheduled walking distance for each day. On some days this may be a shorter walking day and on others, the only option may be to not walk and take alternative transport to our destination.
Walking poles are required for this walk. Poles help in picking the way through slippery sections and assist in spreading the impact of walking across your entire body, reducing pressure on your legs and knees.
We have set out below a general description of the trail for both the Kumano Kodo pilgrimage trail and the Nakasendo trail.
Kumano Kodo pilgrimage trail
While some sections of the trail are quite flat, much of the walk is up and down paths through forests. Large sections of the path consist of bare earth criss-crossed by exposed tree roots or topped with loose gravel or shale. Steps in these areas are usually roughhewn flagstones. In places the path breaks out onto gravelled forestry trails and for short sections we walk along the side of sealed minor roads.
Some days are quite challenging, with long days of walking and several extended steep ascents and descents.The paths are well marked and well-trod. We do not walk through long grass. Every 500 metres there is a numbered wooden or stone marker. Along the trail, particularly at places where another path joins, there are signs indicating the route of the Kumano Kodo.
The path is never far from towns and roads, but as we walk through forested areas we are surrounded by quiet and tall pencil thin cedar and cyprus trees, and it is easy to imagine what it was like for pilgrims centuries ago. Occasionally there are signs providing information in English as well as Japanese about sites along the way.
In both wet and dry conditions the path can be slippery and care needs to be taken. As the Kumano is a high rainfall area, the path can be muddy and develop into a water channel during and after rain, and it is easy to slip on the stone paving. Even in dry weather it is easy to slide on loose gravel in steeper sections.
The Kumano Kodo is a challenging walk but it's not all hard work. The walk passes through some beautiful rolling countryside with tea plantations, orange groves and spectacular views.
Nakasendo trail
Most of the trail is quite undulating along secondary roads and hiking trails, passing through open countryside and forested areas. We walk in and out of hamlets and occasionally larger regional centres. At times the trail is at the side of the secondary sealed roads and at other times along hiking trails with a gravel or loose shale surface. Occasionally the trail crosses timber board walks and steps or is through low grass of open countryside or forested areas. The most difficult sections which require great care are a few short sections of "ishidatami" or stone paving. These sections can be quite slippery, particularly if mossy or wet, and we need to pick our way along.
The paths are well-trod for the most part and quite well marked. Occasionally there are signs providing information in English as well as Japanese about sites along the way.
During and after rain, particular care needs to be taken on sections of path that are not sealed as the path may be muddy and become slippery. The stone paved sections of path (the ïshidatami" mentioned above) also require a high degree of care when wet. Japan has a high rainfall and we are likely to walk through rain or on wet trails at times.
Generally speaking, the walking is not as difficult along the Nakasendo trail as the Kumano Kodo trail, with just a few challenging sections that require greater care.
Distances & Gradients
Kumano Kodo and Koyasan Tour
There are not many places along the Kumano Kodo trail to stay, particularly for groups, and this dictates the distances we walk each day.
The trail is never more than 1000 metres above sea level, but some days we climb and descend several hundred metres a number of times.
As the terrain and gradient vary along the Kumano Kodo, distances alone do not indicate how long each day's walk is. We have outlined below the six sections of our Kumano Kodo walk. Usually, we walk one section per day but due to factors such as weather, we may change this to walk less than one section in one day or combine two sections. Four of the sections that we walk are harder with a number of steep ascents and descents and take between 6 and 8 hours. Two of the other sections are shorter and a little easier; one day is just 3.9 kilometres but takes around 2 hours as the initial climb is steep and another section is 7 kilometres and takes us about 3 hours (including breaks).
Takahara to Kobiro Toge
18 kilometres
6 hours.
8 to 8.5 hours.
Kobiro Toge to Hosshinmonoji
11 kilometres
4.5 hours.
6 hours.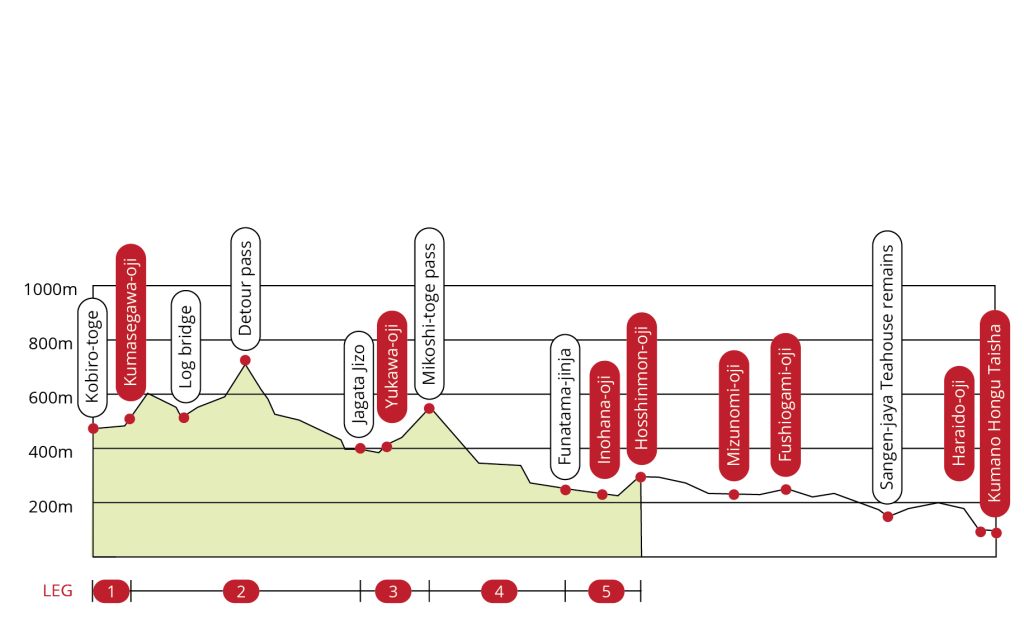 Hosshinmonoji to Kumano Hongu Taisha
7 kilometres
2 hours.
3 hours.
Takahara to Tsukizakura-oji (Nonaka)
14.5 kilometres
5 hours
7 to 7.5hours
Tsukizakura-oji to Kumano Hongu Taisha
21 kilometres
6.5 to 7 hours
9 hours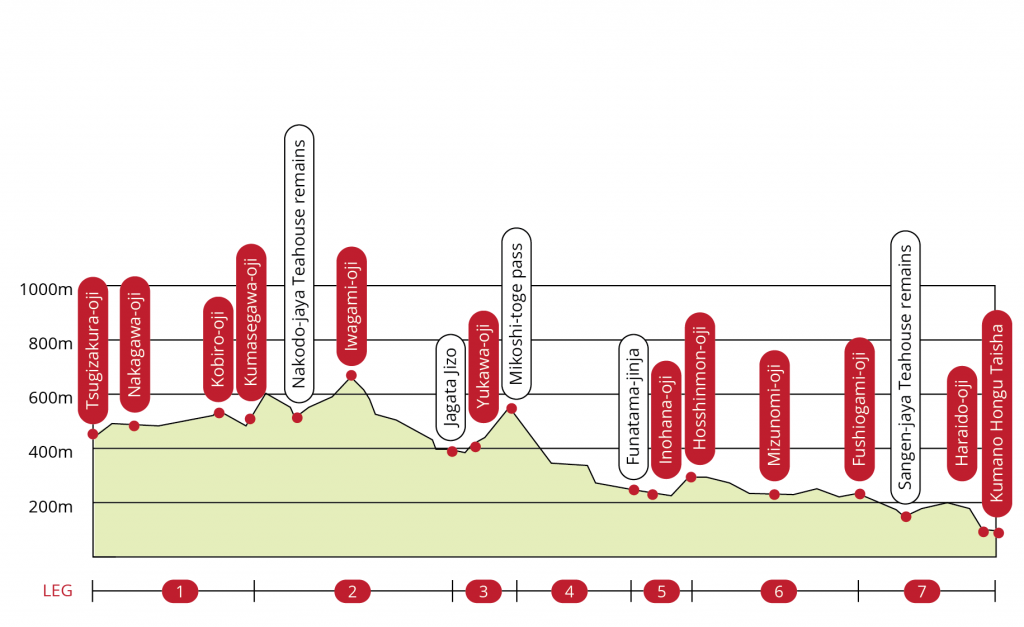 Kumano Hongu Taisha to Koguchi
Approximately 16.5 kilometres
5 to 6 hours
6.5 to 7.5 hours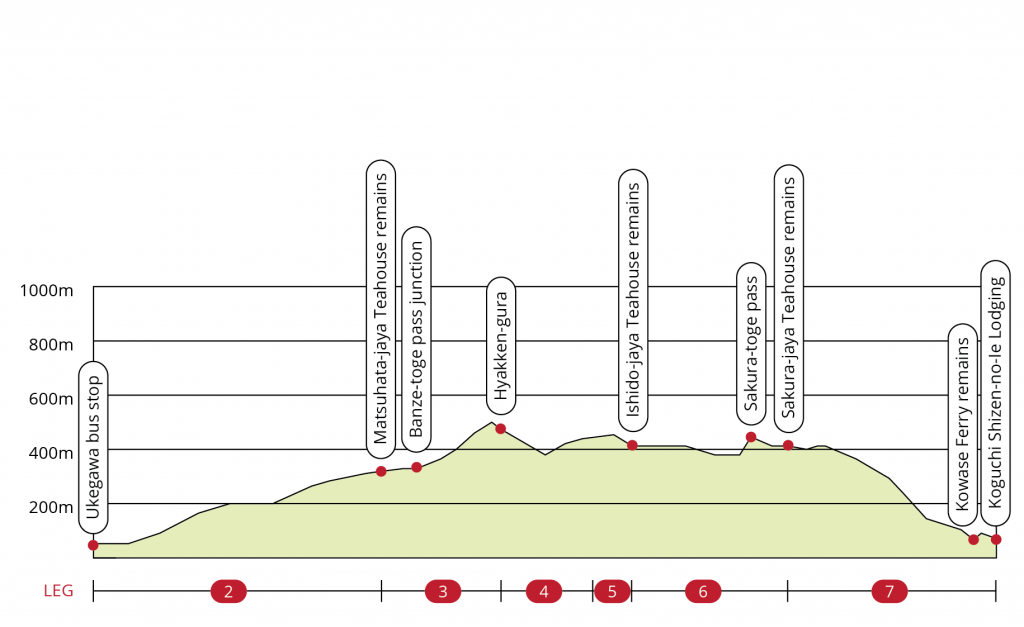 Koguchi to Kumano Nachi Taisha
Approximately 14.5 kilometres
5 to 6 hours
7 to 8 hours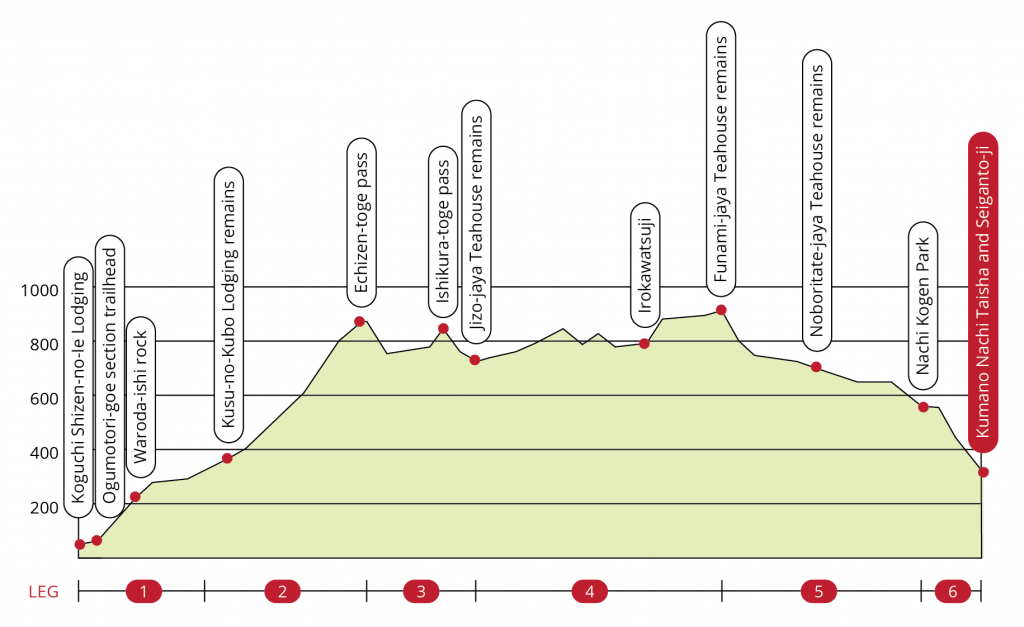 Nakasendo and Kiso Valley Tour
Over six days we walk approximately 80kms. Two days are longer at around 20kms and the other four are shorter at around 10kms.
We walk into higher altitudes as we move further away from the sea and up into the Kiso valley. On most days we climb and descend again to our accommodation for the night. On our last two days of walking we are at altitudes of more than 1000 metres above sea level. Some days we climb and descend several hundred metres a number of times.
Mitake to Hosokute
Approximately 12 kilometres
3.5 hours
4.5 hours
Hosokute to Ena
Approximately 21 kilometres
6 hours
7.5 hours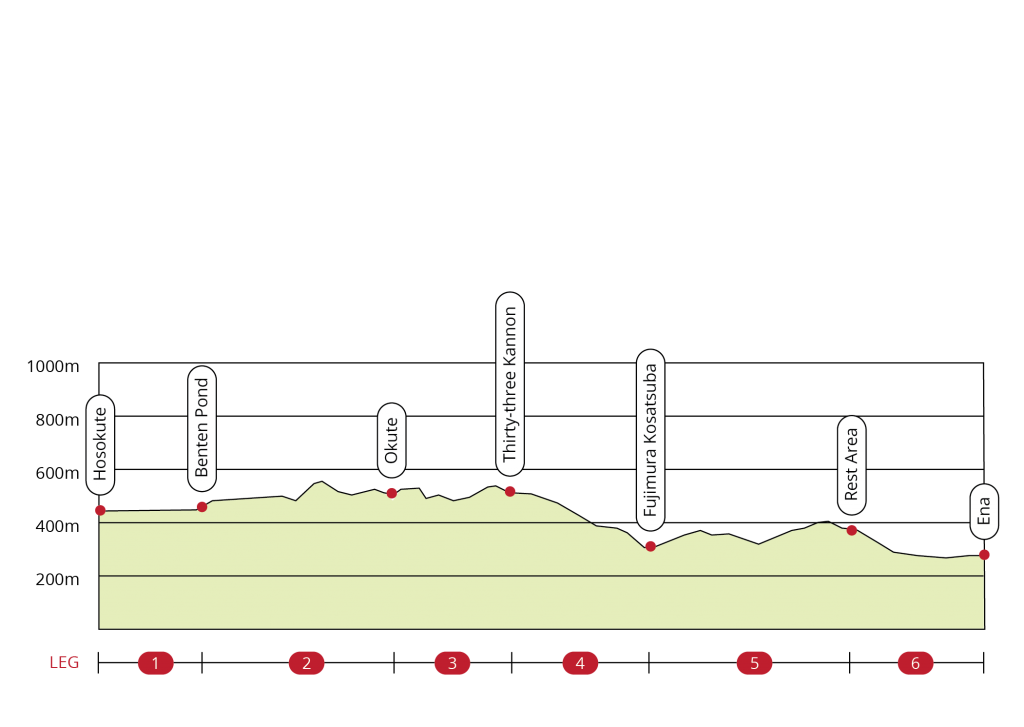 Ena to Iwamura to Ena

Approximately 7 kilometres return
1 hour on way up, 45 mins on way down
1.5 hours each way
Ena to Shinchaya
Approximately 17 kilometres
5 hours
7.5 hours
Shinchaya to Tsumago
Approximately 10 kilometres
3 hours
5.5 hours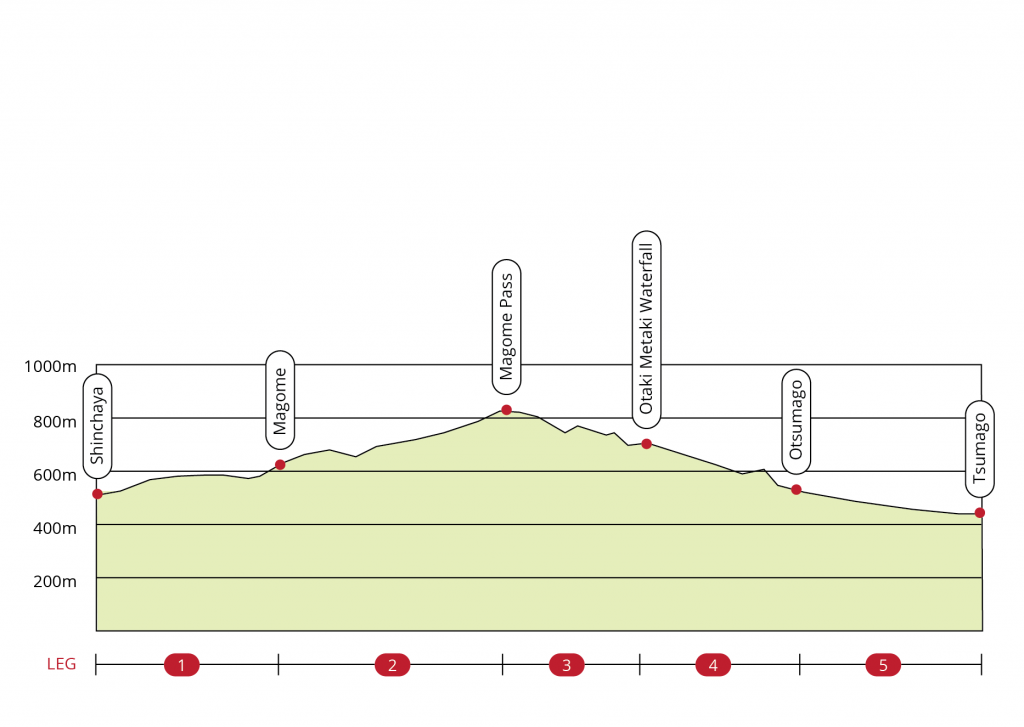 Tsumago to Nojiri

Approximately 20 kilometres
5.5 hours
7 hours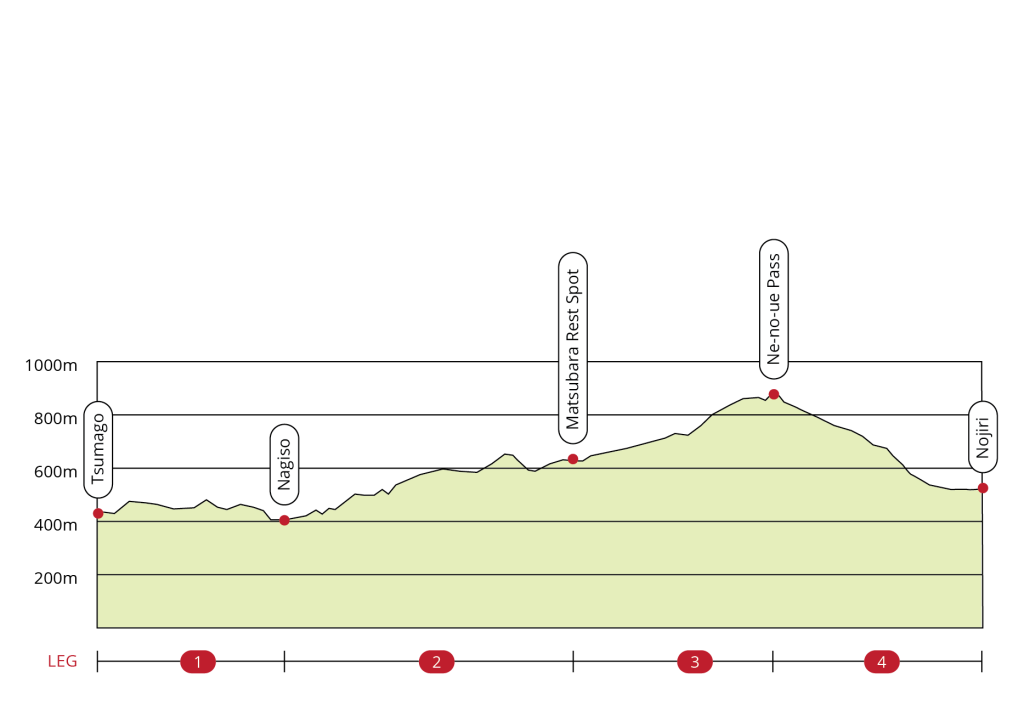 Karasawa Waterfall to Kaida Plateau (Nishino)
Approximately 11 kilometres
3.5 hours
4.5 hours
Yabuhara to Narai
Approximately 8 kilometres
2.75 hours
3.5 hours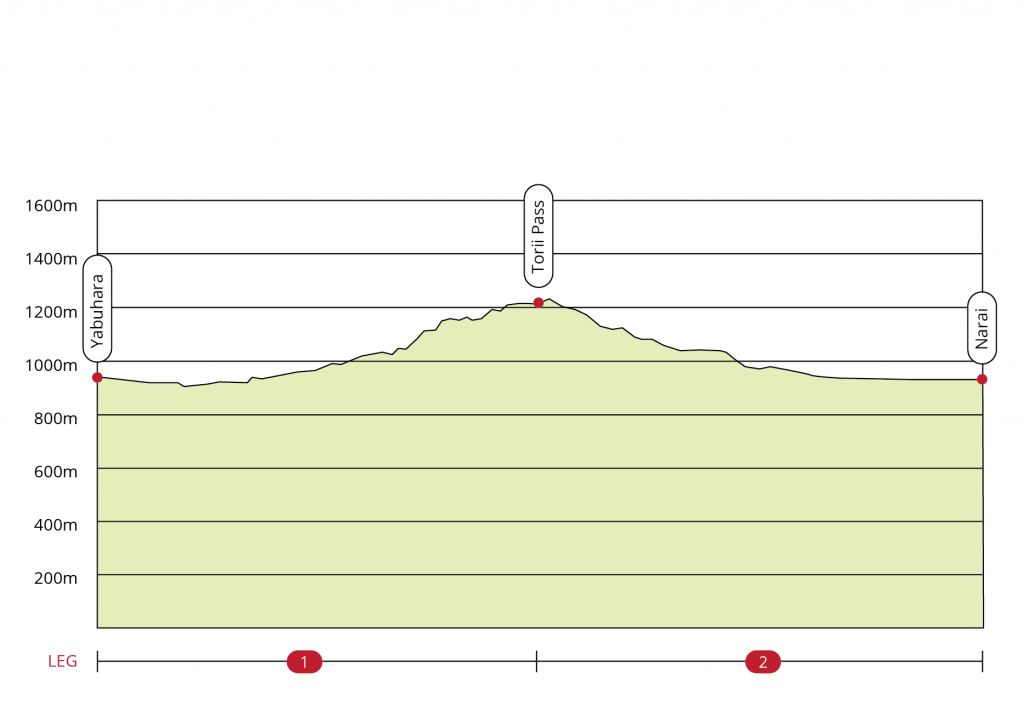 Fitness Level
How fit do you have to be?
Both the Kumano Kodo and Nakasendo trails are challenging walks; they require good health, a good degree of fitness and a preparedness to walk for several hours over several days. Japan is a mountainous country and both walks involve hills. The Kumano Kodo trail has more steep sections, some of which are quite long, relative to the Nakasendo trail. The trail underfoot on the Kumano Kodo is quite uneven which adds to the degree of difficulty. Anyone who is contemplating these walks must be prepared to train for them.
Different people will have different ideas of what is a challenging walk. Before committing to either walk, read our descriptions of the walking days, including the distances and gradients, and look at our gallery of photographs which include photographs of the trails. Then try to simulate one of the longer days by walking with your hiking boots and a back pack for a similar distance over similar terrain.
It is easy for someone unaccustomed to long days of walking to think that they will cope with the walking because they regularly walk for 30 minutes at a time. However it is very different to walk for 8 or 9 hours in hiking boots and with a day pack up and down several steep ascents and descents. People who have issues with their knees or feet, for example, may find that descents that they could handle at the beginning of the day are beyond their capability after a long day of walking. Good reflexes, balance and agility, all of which can be improved with training and increased fitness, will assist with walking on uneven terrain.
Although the Kumano Kodo walk involves less days of walking than the Nakasendo, it is the more challenging of the two walks. We don't want to scare people as many people, young and old, walk the Kumano Kodo and it is far from the most challenging walk in the world. However anyone considering either walk needs to understand what is required and to be confident that they are physically up to the walking involved.
If you would like to join one of our tours but do not want to walk the entire route, please contact us as we have options to shorten the walking on some days. In addition, from time to time we run tours that skip some of the more strenuous sections and have shorter days of walking.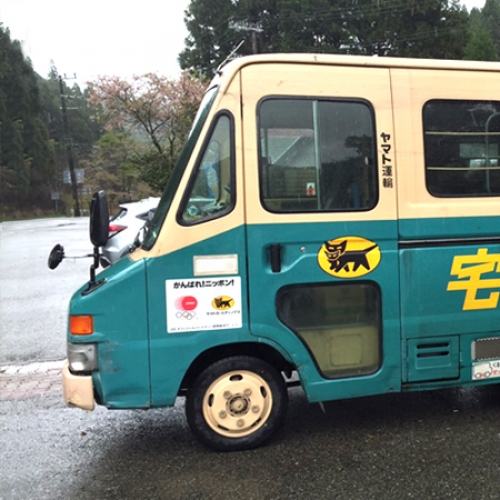 Luggage Shuttles
On the Kumano Kodo walk, your luggage will be shuttled each day to the next inn, so you only need to carry a daypack with your lunch, water, personal items and wet weather gear. You leave your luggage in the foyer of the inn each morning and it arrives at our accommodation by late afternoon the same day. We allow for one piece of luggage each, to a maximum weight of 15kg per piece. On the Nakasendo walk, same day luggage shuttles are not available every day. On a few nights of the tour (not consecutive) your luggage is forwarded one night ahead and you need to carry your overnight requirements in your pack. As the Japanese inns provide a cotton yukata for wearing to dinner and to bed and also towels and basic toiletries (toothbrush, shampoo, body wash), items required for overnight can easily be kept to a minimum to keep your pack light on these days.
Trains in Japan do not have much storage space for large suitcases. When trains are crowded, especially during holiday periods or peak hour, it can be very difficult to find room for your luggage.
Many travellers take advantage of the luggage shuttle services provided by courier companies. This service is called 'takkyubin' in Japanese. For a reasonable price, you can have your luggage forwarded to your next hotel, with delivery the following day in most cases. If you are travelling before or after the walk and you have extra luggage, you may wish to shuttle your luggage onto one of your next destinations.
One of the major takkyubin services is operated by Yamato, known as Kuroneko (black cat). The symbol for Yamato is a yellow circle with a black cat carrying a kitten. Your hotel will be able to arrange a pick-up service but you can also take your luggage to a Yamato agent, often at convenience stores.
You can also have your luggage shuttled to and from airports. On your return journey, you will need to send your luggage at least two days before your departure. Your luggage can be collected at the designated delivery counter and then you can proceed directly to your check in counter.
Weather
In spring and autumn the temperature in the areas we walk may be cool overnight and in the morning but around mid to high teens during the day. You will need layers of clothing that can be pulled on and off as necessary. In our packing list we have a recommended list of clothing.
Koyasan and Kumano Kodo
The Kii Peninsula is the southern-most point of Honshu, and the weather is relatively mild all year round. Along the Kumano Kodo pilgrimage trail we do not walk at high altitude and, even in winter, there is little if any snow on the Nakahechi trail. Koyasan has snow in winter and although we are extremely unlikely to experience snow in Koyasan in spring or autumn, the nights can be very cold with temperatures around zero.
The Kumano is a high rainfall area and the lush countryside, streams, forests and waterfalls are born of that. We are very likely to walk through rain on at least one of our days of walking, so you will need waterproof gear.
Temperatures & Rainfall
The following table shows average daily temperatures and rainfall for Koyasan and the Hongu (an village we walk through along the Kumano Kodo trail).
| KOYASAN | Jan | Feb | Mar | Apr | May | Jun | Jul | Aug | Sep | Oct | Nov | Dec |
| --- | --- | --- | --- | --- | --- | --- | --- | --- | --- | --- | --- | --- |
| Average High ˚C | 9 | 10 | 14 | 20 | 24 | 27 | 31 | 33 | 28 | 23 | 17 | 11 |
| Average Low ˚C | -1 | -1 | 2 | 7 | 12 | 17 | 22 | 22 | 19 | 12 | 6 | 1 |
| Precipitation mm | 54.4 | 58 | 90.1 | 88.5 | 152.9 | 183 | 156.3 | 116.3 | 168.7 | 108.6 | 67.5 | 52.7 |
| Average days of rain | 16 | 16 | 17 | 15 | 15 | 17 | 17 | 14 | 16 | 13 | 13 | 14 |
| HONGU | Jan | Feb | Mar | Apr | May | Jun | Jul | Aug | Sep | Oct | Nov | Dec |
| --- | --- | --- | --- | --- | --- | --- | --- | --- | --- | --- | --- | --- |
| Average High ˚C | 12 | 13 | 15 | 19 | 23 | 25 | 29 | 30 | 28 | 23 | 19 | 14 |
| Average Low ˚C | 5 | 5 | 7 | 12 | 16 | 20 | 23 | 24 | 22 | 17 | 12 | 7 |
| Precipitation mm | 110.1 | 108.7 | 199.7 | 201.3 | 277.8 | 396.4 | 265.1 | 251.8 | 344.2 | 247 | 157.6 | 84.3 |
| Average days of rain | 16 | 16 | 17 | 15 | 15 | 17 | 17 | 14 | 16 | 13 | 13 | 14 |
In spring and autumn the temperature may be cool overnight and in the morning but around mid-teens during the day. You will need layers of clothing that can be pulled on and off as necessary. In our
packing list
we have a recommended list of clothing.
Nakasendo trail
The Kiso valley section of the Nakasendo trial that we walk runs from Nagoya across the island of Honshuu up into the mountains which run down the spine of Japan's main island. In winter there are heavy snowfalls in these mountains and a number of ski resorts operate in the area. When we walk in spring and autumn the weather is quite mild. However, as we leave the coast and walk higher into the mountains the weather can change quite noticeably. The days and nights will generally be cooler and with less humidity. In spring we might see small remaining pockets of snow along the trail and there will be snow visible on the surrounding mountains.
Japan enjoys a high rainfall and the Kiso valley is no exception. Although the monthly averages are not as high as the Kumano, we are still highly likely to walk through rain and good waterproof gear is essential.
Temperatures and Rainfall
The following table shows average daily temperatures and rainfall for Nakatsugawa, a city in the Kiso valley.
| Nakatsugawa | Jan | Feb | Mar | Apr | May | Jun | Jul | Aug | Sep | Oct | Nov | Dec |
| --- | --- | --- | --- | --- | --- | --- | --- | --- | --- | --- | --- | --- |
| Average High ˚C | 4 | 5 | 10 | 16 | 21 | 24 | 28 | 29 | 25 | 19 | 13 | 7 |
| Average Low ˚C | -6 | -6 | -2 | 4 | 9 | 15 | 19 | 20 | 16 | 9 | 2 | 3 |
| Precipitation mm | 54.4 | 48.3 | 91.4 | 93.6 | 122 | 163.9 | 178.9 | 143.8 | 175.8 | 137.2 | 73.7 | 45.2 |
| Average days of rain | 12 | 10 | 13 | 11 | 13 | 16 | 17 | 15 | 14 | 12 | 10 | 11 |